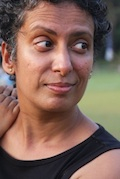 Professor Gameela Samarasinghe
Gameela is a Sri Lankan psychologist with internationally recognized expertise in torture and trauma, bringing to this field a critical understanding of the importance of recognizing cultural and social context in the development of treatment programs. Gameela has been instrumental in developing community based torture an trauma programs in Sri Lanka and has been a member of various advisory groups developing strategies for post-conflict trauma in Sri Lanka and internationally. These include her role as Technical Advisor to the Asia Foundation's Reducing the Incidence of Torture (RESIST) Program and to the Victims of Torture Treatment Program (VTTP), which are programs designed to support and treat torture survivors. She is a member of the international research team on "Trauma, Peace building and Development", run from the University of Ulster. She is co-author (with Maleeka Salih) of Transitional Justice in the context of Psychosocial Work in Sri Lanka (SPARC 2006). Gameela is an Associate Professor in the Department of Sociology at the University of Colombo.
Gameela's distinctive contribution to the project was to examine the root causes of torture against the particular social, cultural, religious, political and historical dynamics of Sri Lanka. She also worked closely with Jack Saul to develop a systems approach for the project.